Dust 514 Mercenary Pack Grants Access To Beta For $20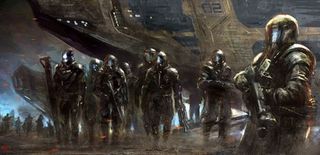 The definition of the term "free-to-play" is starting to get pretty hazy these days. While upcoming online shooter Dust 514 will still technically cost $0 when the game launches, developer CCP Games has announced a new batch of DLC that, at $19.99, will give purchasers early access to the game. And by early, we mean starting this week.
Titled the Mercenary Pack, this first batch of DLC (for a game that hasn't quite launched yet), will give players an arsenal of new gear, some in-game currency and a new booster to help them out on the battlefield.
More importantly, though, is that purchasing this $20 pack of goodies will grant access to the ongoing beta, giving you the chance to take this PlayStation 3 exclusive for a test drive before it's unleashed upon the masses later this year. The first beta event begins this Thursday, June 28, with more events occurring every other weekend. For purchasers of the Mercenary Pack, however, you will maintain access even during the off weeks.
Nobody is forcing anyone to pick up this DLC, and I suppose I can't fault a developer for trying to make some cash on their game that, at its core, will actually be available for free. But something about paying a studio to help test their game just seems like a backwards way of doing business. I'm pretty sure that transaction usually works the other way around.
If you don't feel like paying $20 to try out the beta, you can always sign up for a chance to jump in at the Dust 514 website. Participants will be chosen at random, though, so there's no guarantee you'll get in going this free route.
Staff Writer for CinemaBlend.
Your Daily Blend of Entertainment News
Thank you for signing up to CinemaBlend. You will receive a verification email shortly.
There was a problem. Please refresh the page and try again.