E3 2013: Exploring The Crazy Action Of Killer Is Dead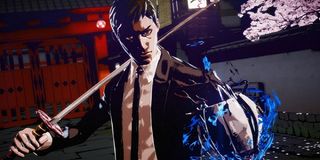 If you meandered over to the Marvelous/XSEED booth at E3 this year, you would have had the opportunity to get your hands on the delightfully stylish Killer is Dead. Behind closed doors, however, Product Manager Jimmy Soga was showing off a different section of gameplay, dishing additional details for the upcoming game along the way.
Coming from Suda 51's Grasshopper Manufacture, Killer is Dead is all about insane action and looking good in the process. The game's cell-shaded art style makes it look like a colorized manga in motion, which results in some spectacular visuals.
According to Soga, Suda wanted Killer is Dead to be a globetrotting game rather than take place in a single location, so the player will be visiting locations all over the world (and even the moon?!) while tackling its 13 episodes.
"Suda wanted the game to be like a serialized TV show, so each episode has an intro and outro," Soga explained. "When the game is over, he wanted it to feel like you've completed a season of a television show."
In the episode being shown off during E3, Mondo Zappa has received his latest assignment from Bryan Executive Firm, a sort of "hitmen for hire" operation that targets otherworldy beings that should not be wandering the earth. Zappa's weapons include a katana and a bionic left arm with various abilities serving as a secondary weapon. Soga explained that the arm is mostly used to get enemies off balance rather than deal any real damage.
The action on display is what you would expect from the genre. Soga guides Zappa around Kyoto, dispatching cyber ninjas and samurai while chaining together attacks, blocking enemy advances and dodging out of the way. There's also a counter for those who can time their blocks perfectly. If you're a fan of Suda's previous offering (Lollypop Chainsaw, No More Heroes, etc.), you're going to feel right at home here.
"Every mission starts with a client coming in with a problem that's 'inhuman,'" Soga explained, guiding Zappa through hordes of enemies and slicing them to ribbons. "In [chapter seven], a client claims she saw a 'yakuza riding a tiger,' so you go in to investigate and find out what, exactly she meant by that...As it turns out, she meant exactly what she said."
At this time, Zappa comes across an actual yakuza riding an actual tiger. Our hero gives chase on a motorcycle, eventually leading to a zen garden showdown pitting sword against sword and, eventually, sword against a giant tiger spirit growing out of the yakuza's back.
Killer is Dead doesn't look to be shaking things up too much, but it looks to nail the basics of the genre, including a solid combat system, loads of enemies to dispatch and big boss battles. The story cutscenes shown off had me intrigued, so here's hoping it stays interesting enough to draw players through 13 episodes. We'll all find out soon enough, as Killer is Dead is set to release later this summer for the PlayStation 3 and Xbox 360.
Staff Writer for CinemaBlend.
Your Daily Blend of Entertainment News
Thank you for signing up to CinemaBlend. You will receive a verification email shortly.
There was a problem. Please refresh the page and try again.