E3 2014: EA Shooting For Something Different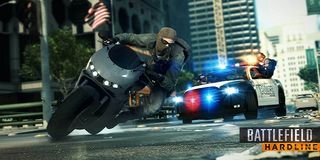 EA is going for something a little bit different this year, if the message of their 2014 press conference is to be believed. New directions for old franchises, unexpected turns for some new IPs, and even a different approach to how they got the news to the masses Monday afternoon.
Even the EA press conference format was changed this year, with 2,000 less attendees to make room for a table and chairs affair. No major athletes or celebrities were paraded onto the stage, presentations were short and sweet and even the trailers themselves felt less in your face than in years past.
Keeping with the trend of "change," the 2014 E3 presser began with a brief look at Dice's Star Wars: Battlefront, giving a behind-the-scenes look at how the team is attempting to bring the detail and love of the film series into its upcoming game.
This was immediately followed by a new look at Dragon Age: Inquisition, with a musical number including a live cellist on the stage. Now that's classy as hell, EA.
Next up was a painfully vague glimpse at the next Mass Effect game, as well as an unannounced title from BioWare. All we know is that the game will feature at least one forested environment, since a couple of stills were all we had to go on. Not super exciting this early on but, again, we've made it this far into an EA show without a lick of shoot-shoot-boom-bang-sportsball.
Keeping that trend going was a nice, long look at The Sims 4, which will allow players to insert an unparalleled degree of personality into their individual Sims and then share them with friends via the internet.
As much as I talk about the overabundance of shooters and sports games in EA's library, I can't fault a publisher for continuing to fund games that, in turn, make them a hell of a lot of money. So it was only a matter of time before the typical EA roster was rolled out and, yet again, it showcased this year's theme of "different."
A nice tribute to Bruce Lee highlighted the EA Sports UFC presentation while the NHL 15 trailer was rather moving. And then there's EA Sports PGA Tour, which we now know will feature a crop of fantasy courses to go along with the real world locales. The hole shown off ever-so-briefly featured a golfer driving on a war-torn beach as a military ship crashed into the sand. I love for my golf games to have this type of an arcade feel to them, and this was the first thing I've seen in about a decade to make me actually pay attention to a series that's traditionally about straight-laced golf.
EA's new MOBA, Dawngate got a moment to shine, with more behind-the-scenes looks at the game's development, the people making the game and why they think their title's story-rich characters and roster will make the game all the more enjoyable to play.
Along with looks at the annual Madden and FIFA, as well as details on all of the usual tweaks being made to each of those games, EA pulled back the curtain on an extremely early game from Criterion, going so far as to joke that, even though the game is still so fresh in development, there's no way this industry would have allowed them to keep it a secret anyway. The game is unnamed at this point, but Criterion made it clear that their plan is to ditch their trademark car-based antics to put players in control of all sorts of other things that go really, really fast, including ATVs, wing suits, speed boats and helicopters. Again, it's hard to form any kind of opinion at this stage of the game, but the concept, at least, has me intrigued.
Receiving perhaps the biggest round of cheers, though, was a look at Dice's upcoming Mirror's Edge game. Once again, very little was shown from the actual game, but what's there looks promising so far. Faith appears to be faster and more agile than ever, using her momentum to absolutely destroy armed guards as she sprints, slides and leaps her way across rooftops. Levels are being planned with multiple paths now, too, allowing players to choose their own course to success or, for the less experienced, big a longer but less demanding course of action.
Finally, what EA show would be complete without an explosive look at the newest Battlefield game, Hardline, which also takes a rather big step away from the series norm. Visitors to the conference were treated to a long look at a 32-player round of Heist, a new multiplayer mode that sees a team of criminals trying to get away with the goods before the cops can stop them. Think of it as a more one-sided version of capture the flag, complete with a long, crazy dash to an escape that includes blazing guns, screeching car tired and more than a couple helicopters meeting an explosive end.
It was big, it was loud, yet it was exactly what EA promised out of this year's lineup of content; it was different.
Staff Writer for CinemaBlend.
Your Daily Blend of Entertainment News
Thank you for signing up to CinemaBlend. You will receive a verification email shortly.
There was a problem. Please refresh the page and try again.