Eight Days Trailer For PS3 Takes Male Bonding To A Whole New Level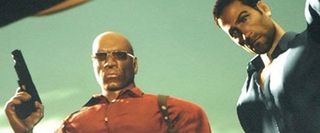 Sony cancelled the PS3 exclusive, Eight Days. It could have been a good game but we'll never know. One thing that we do know is that the new trailer for the cancelled game showcases the buddy-up like you've never seen before with lots of touching, grabbing and groping.
While the main image of this story consists of two characters that resemble Jason Patrick and Ving Rhames, the actual game seemed to contain two different iterations of the main heroes, but the main traits of the game stayed the same with some chocolate and vanilla tag-team, male-with-male action.
At the 1:07 mark you'll get your first taste of the touching and the groping and a little bit of the starry-eyed wonder that the two protagonist share for one another. Throughout the entire thing they'll tradeoff remarks about helping each other out, giving each other a hand and practically everything else that coincides with overly-macho slang usually associated with partners who are more than just…partners.
You can check out the footage of the cancelled game courtesy of Eurogamer…in all honesty though, Eight Days could have been a less adventuristic version of Uncharted, and that's not necessarily a bad thing.
Staff Writer at CinemaBlend.
Your Daily Blend of Entertainment News
Thank you for signing up to CinemaBlend. You will receive a verification email shortly.
There was a problem. Please refresh the page and try again.