Elder Scrolls Online Imperial Edition Unboxing Trailer Shows Off The Exclusive Extras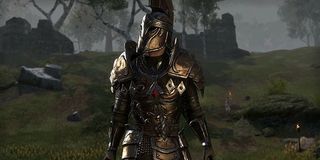 Pre-ordered the Elder Scrolls Online Imperial Edition but have no idea how to open it? Worry no more! ZeniMax has released an unboxing video to show you how to get inside the limited run package.
The biggest item in the Imperial bundle is a twelve-inch statue of Molag Bal, the Daedric prince of domination. Bal, one of the main antagonist of the game, is planning an invasion of Tamriel. The statue shows him clutching a warrior in one hand and his vicious mace in the other. You may remember the weapon from Skyrim.
The Imperial Edition also includes a couple items for lore fiends. The map of Tamriel will help you navigate ESO's game world. A guide book, written from the perspective of an Imperial scholar, gives a run-down on 10 major cultures in Tamriel. The book also mentions some of the creatures that you'll encounter.
The bundle is called the Imperial Edition because of its digital extras. You'll get exclusive access to the Imperial race for all three factions, along with a white Imperial horse to ride. You can also change your current equipment's appearance so it looks like a soldier of the Empire.
The other digital bonuses include the mudcrab pet and Rings of Mara. The former is a non-combat companion that will make you look a bit cooler when running around the realm. Rings of Mara allow you to bond your character to another. When the two of you are questing together, you'll receive more experience points than usual.
ZeniMax is offering the Imperial Edition on PC, Mac, PS4 and Xbox One for $99.99. PC and Mac gamers have the option of purchasing a digital version of the bundle. It doesn't include the statue, book, or map but it's also twenty bucks cheaper.
Regardless of whether you pre-order the Imperial Edition or standard edition, you're going to get an Explorer's Pack of other perks. The Explorer's Pack lets you use any of the standard nine races with any faction. You'll also get a Scuttler pet and three bonus treasure maps. All pre-order customers will get early access to the game - five days for Imperial Edition owners, three for Standard Edition owners.
If you're going digital, you might want to consider buying through Uplay. They're offering free copies of Assassin's Creed 3 and Assassin's Creed 4 to ESO pre-order customers.
ESO will launch in April on PC/Mac and in June on consoles. The game will require a monthly subscription across all platforms. However, a month's subscription is included with purchase of the game.
Staff Writer at CinemaBlend.
Your Daily Blend of Entertainment News
Thank you for signing up to CinemaBlend. You will receive a verification email shortly.
There was a problem. Please refresh the page and try again.