Enhanced Steam Standalone Client Makes PC Game Shopping Easier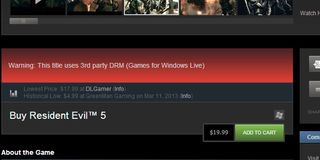 You don't have to wait for Valve to make improvements to Steam's interface. A group of gamers have released an Enhanced Steam client filled with new features to make your PC game shopping easier.
Enhanced Steam displays additional information to help browsing. The games in your library or on your wishlist are both highlighted. MetaCritic user scores, game descriptions, and third-party DRM are all noted. Enhanced Steam also helps you make smarter purchases by providing pricing history on a game and noting how much money you'll save with bundles. Screenshots of the enhanced interface are below.
The improvements extend to other Steam features like the Trading Cards, Marketplace and Greenlight. Here's the full list of Enhanced Steam's advancements:
Store Features
Highlights the content on Steam you already own
Highlights games on your wishlist
Points out 3rd party DRM on games
Shows you how much you really save on a bundle
Displays pricing history for each game
Shows you how much you've spent on your Steam account
Shows you Metacritic User Scores
Adds an "Empty Cart" button to the shopping cart
Adds DLC category information to the product page
Gives you widescreen support information from the WSGF
Shows game descriptions on the Steam homepage
Community Features
Adds an "Add to cart" button on your wishlist
Replaces the Steam Greenlight banner
Shows a transaction summary on the Steam Marketplace
Lets you set a custom background on your Steam profile
Shows your achievement stats on the "All Games" page
Show SteamCardExchange links on badge pages
Shows market price on an item's inventory page
Shows links on your profile to great Steam-integrated sites
Shows you how many games have drops, and how many cards
Gives you advanced badge filtering options
Site-Wide Features
Options page that lets you decide which features to enable
Adds an "Enhanced Steam" menu for quick feature access
Adds a link to the forums back to the community dropdown
Miscellaneous Bug Fixes
Fixes the "No Image Available" images on your wishlist
The project started out as a Chrome, Firefox and Opera extension. This latest standalone release can be used with the Steam client itself rather than just the website, though. Both the browser extensions and the standalone client work about the same way, though: after you've sent a request to Steam, javascript is inserted into Steam's response right before it's delivered to your computer.
You can download the standalone client through Github. The download page includes the full instructions for setting it up. If you prefer using Steam through your browser, you'd be better off just grabbing the browser extension.
Image 1 of 3
Your Daily Blend of Entertainment News
Staff Writer at CinemaBlend.
Your Daily Blend of Entertainment News
Thank you for signing up to CinemaBlend. You will receive a verification email shortly.
There was a problem. Please refresh the page and try again.