Epic Mickey Opening Cinematic - Part 1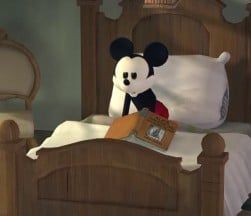 The first part of the opening cinematic for the Wii's exclusive new game, Epic Mickey was released. Gamers can get a brief glimpse into how Mickey ends up in the Wasteland and just how it all gets started.
The opening cinematic doesn't do much to explain what the gameplay is about, but Warren Spector's adventure game sees players utilizing a magical brush to change the very environments around. The brush can also be used to add or take away certain objects that will aid or impede certain events from taking place. On paper it sounds kind of cool, but how well this will all play out in the actual game is a whole other story.
You can check out the first part of the opening cinematic below or visit the Official Website to learn more about Mickey's tales through the Wasteland. Epic Mickey is set for release this upcoming holiday season for the Nintendo Wii.
Staff Writer at CinemaBlend.
Your Daily Blend of Entertainment News
Thank you for signing up to CinemaBlend. You will receive a verification email shortly.
There was a problem. Please refresh the page and try again.