Fight Night Round 4: Boxing Style Documentary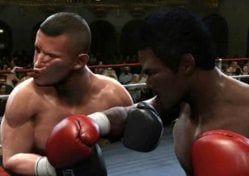 My goodness, Fight Night Round 4 offers more dynamic screen-capture shots than Naomi Campbell at a red carpet event. If you check out the main thumbnail and main image for this article you can easily see how kick-butt this game looks and how amazing the boxers and impact punching works in this game. The best part about it, though, is that all of the screenshots, captures and trailers are from actual in-game play. Yes, even a video documentary about boxing styles still produces amazing screen captures.
Due out on June 30th for the Xbox 360 and PlayStation (sorry PC pirates, no opportunities for you to steal this blockbuster game) Fight Night Round 4 will offer unprecedented boxing action with some of the most realistic physics and boxing action to date. I could spend an entire article just running down the details of this game's physics and boxing mechanics, but I understand that most of our readers have something called "a life".
Anyway, the video documentary is a great one. Fight Night Round 4 producer, Brian Hayes, lays down some excellent commentary for the differing boxing styles and AI boxing tactics that players will encounter in this amazing simulator.
There's one thing I continually repeat time and time over again each time I write about fighting games coming out for this year, and I'm going to say it again: Fight Night Round 4 is easily going to be the best fighting game of the year. The only thing this game appears to be missing is the license to include fictional fan-favorite boxer, Rocky Balboa. But I get the feeling that he might be appearing in one of the future iterations of Fight Night.
Anyway, you can check out the video doc below or visit the Official Website for more information on the game. For more news and info regarding all things gaming, be sure to stay tuned in with Blend Games.
Staff Writer at CinemaBlend.
Your Daily Blend of Entertainment News
Thank you for signing up to CinemaBlend. You will receive a verification email shortly.
There was a problem. Please refresh the page and try again.