GTA 5 Online PC Beta Keys Are Fake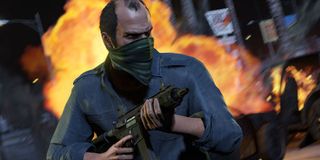 If you get an email claiming that you've been invited to a Grand Theft Auto V beta test for PC, be very skeptical. Security software company Trend Micro says that fake invites loaded with malware are making the rounds.
"We recently found spammed messages that pretend as an invitation for beta testing the popular game, Grand Auto Theft V on Windows platform," Trend Micro explains on their website (opens in new tab). "It bore the subject, GTA V and informed users about a promotion code that they need to access by clicking the URL. It has .ZIP file attachment (promo_code.zip), which actually contains a malware detected by Trend Micro as TROJ_FORUCON."
Fortunately, the spammers didn't put too much effort into making their email look legitimate. The sample published by Trend Micro has no images and is filled with grammar errors ("you invited Beta tester GTA V to Windows"). Also, the bottom half of the email appears to be written in several different Eastern European languages. I imagine that most people would notice the invite is fake right away but hey, spammers wouldn't send out these emails if they didn't work from time to time.
Trend Micro notes that similar spam attacks were sent out in the past for games like World of Warcraft and Grand Theft Auto IV. The people responsible for these scams know that someone's more likely to open an email about games they're excited to play.
"Clearly, the worldwide success of these games makes it a good social engineering lure to trick users. In this specific case, spammers capitalized on the much-anticipated release date of Grand Theft Auto V on PC, Xbox One, and PS4. We highly advised users to verify first the validity of email messages they received pertaining to any game beta testing as this may possibly lead to system infection or even information theft."
If you're wondering whether or not a beta invite is legitimate, check the game's official website or their social media pages. The developer will almost always make an announcement when a beta is underway. These companies know that even legitimate invites can end up in Spam folders so they make sure everyone knows about the test. In the case of Rockstar Games, they would announce a beta through Rockstar Newswire.
GTA 5 hasn't been announced for the PC yet. Many gamers are expecting a PC version, though, due to Rockstar's history of supporting that platform. Small clues of a port have appeared on retailer websites as well as the the game's mobile app. Still, Rockstar hasn't confirmed anything yet. Until they do, don't trust any emails inviting you to a beta test.
Your Daily Blend of Entertainment News
Staff Writer at CinemaBlend.