GTA 5 Online Valentine's Weekend Event Boosts Cash, RP Rewards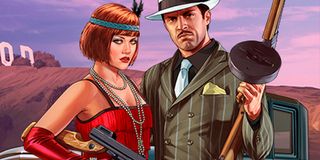 In honor of the new Valentine's Day Massacre Special content for GTA Online, Rockstar is hosting a special weekend event. The festivities will even spill over into older Rockstar games Red Dead Redemption and Max Payne 3.
Those of you traveling in San Andreas this weekend will see special crates falling from the sky. These crates are loaded with RP bonuses, submachine guns and sticky bombs. Rockstar says that the Del Perro Beach, the Vinewood Sign and the Observatory Car Pack are a few of the secluded locations where these packages will land. Be warned, though: you'll probably have some competition for the loot.
Rockstar will also offer discounts on your Valentine's weekend festivities. Cinema tickets will be free for you and your date. If you're feeling lonely, you can stop by the Vanilla Unicorn for free shots or lap dances.
If you take a Snapmatic photo of your misadventures, you could win big money. Tag your shots with #vdaymassacre for a shot at $1 million in-game money as well as an exclusive in-game license plate such as "BE MINE or "KISS IT." The five winners will be announced on the Rockstar Newswire.
The event provides huge boosts to character progression as well. Sea Races will award triple the regular amount of GTA$. You'll get three times as many Reputation Points as usual while participating in Arm Wrestling events or riding in cars with other players.
Max Payne 3 and Red Dead Redemption players can also level faster in multiplayer. Rockstar is implementing Triple XP for both games for the full weekend. These increased gains will end on Monday along with the main Valentine's Weekend event.
While the in-game events are underway, Rockstar will hold a sweepstakes. Five winners will get a Grand Prize Pack with a Bugstars jumpsuit, a stuffed Chop doll, and official GTA 5 t-shirts and stickers. Rockstar will also select 10 runners up to receive a shirt and stickers.
The Valentine's Day Special DLC went live on Thursday for the Xbox 360 and PS3. It provided several 1920's-themed items including a Tommy gun and retro limo. This new equipment is available for purchase in GTA Online and also automatically unlocked for GTA 5's campaign. The free update also brings back the Rat Loader pickup while making several gameplay changes. The new items in the Valentine's Day DLC can only be acquired through the end of February. Once they're in your inventory, though, you'll have them for good.
Image 1 of 3
Your Daily Blend of Entertainment News
Staff Writer at CinemaBlend.