Get A Free Palace By Pre-Ordering Assassin's Creed 2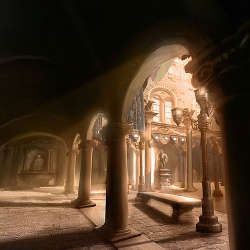 Today GameStop revealed the free swag they'll be offering to pre-order customers of Assassin's Creed 2: a free Renaissance-era palace. It's virtual but impressive-looking nonetheless.
Reserving your copy of AC2 through GameStop will get you access to the Palazzo Medici. The Palazzo is said to have treasures hidden within its halls. I wouldn't expect too much out of this - if it were that amazing, it would be in the full game - but still, it's better than a free keychain.
The pre-order bonus is only listed on the product pages for the Xbox 360 and PS3 versions so it looks like the PC will be getting the shaft. AC2 will be released on all three platforms during the 2009 holiday season.
Staff Writer at CinemaBlend.
Your Daily Blend of Entertainment News
Thank you for signing up to CinemaBlend. You will receive a verification email shortly.
There was a problem. Please refresh the page and try again.