Grand Theft Auto: San Andreas, Vice City Might Go Mobile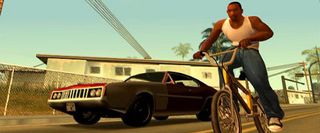 This fall Rockstar Games is releasing Grand Theft Auto II for Apple and Android devices. Rockstar says this may not be the only PlayStation 2 GTA to be given new life on those platforms.
In their preview of the mobile GTA III, Digital Trends asked the developer whether GTA: Vice City or San Andreas could be ported to iOS and Android. Rockstar admitted that it would be a "technical challenge" but that it's "very possible."
San Andreas would be particularly tough to pull off. Its game world is about five times the size of GTA III's. It also has over twice the amount of vehicles, including airplanes and helicopters. Still, if Rockstar can get one PS2 game onto an iPad, you'd think they'd be able to do it with another.
The current rumor is that Grand Theft Auto V will be set in the San Andreas area. If so, re-releasing GTA: San Andreas around the same time would be a good way to generate hype for that new title. Still, marketing isn't the only reason to port the game to mobile devices. GTA: SA is one of the best games in the series so iOS/Android owners ought to get the chance to play it.
Staff Writer at CinemaBlend.
Your Daily Blend of Entertainment News
Thank you for signing up to CinemaBlend. You will receive a verification email shortly.
There was a problem. Please refresh the page and try again.