Gritty New RPG, Of Orcs And Men, Announced For PC, PS3, Xbox 360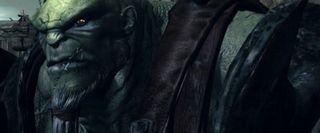 Focus Home Interactive, Cyanide Studios and Spiders have collaborated together to come up with a truly unique new action RPG for the current gen consoles and PCs. The name of the game is Of Orcs and Men and it's about the brutal struggle between…Orcs and Men. The real highlight is that players won't be playing as humans this time around but instead will assume the role of a veteran, hardened Orc who decides to take the fight to the Empire of Men.
The game sounds pretty wicked, insofar that Goblins and Orcs aren't being slaughtered off by the humans they're being enslaved. Players will be sent on a daring suicide mission as an elite Orc from the legendary Bloodjaw tribe in order to carry out an assassination attempt on the ruler of men, the high Emperor.
Players will be accompanied by a Goblin who also has some nifty tricks up his sleeve that will help as the two non-humans must infiltrate the Great Wall and take down the leader of the Empire of Men.
This gritty new action-RPG is scheduled for release in spring of 2012 for the Xbox 360, PS3 and PC. It definitely sounds like it has a lot of balls-out originality and I'm definitely curious to see how the game turns out. You can keep your eye on the Official FHI Website for further updates.
Your Daily Blend of Entertainment News
Staff Writer at CinemaBlend.