Here's When You Can Play Yo-Kai Watch 2 In The U.S.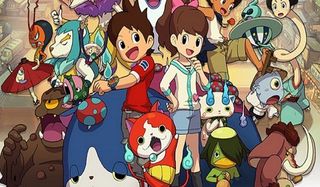 After earning a ridiculous amount of success in Japan, the Yo-Kai Watch series is starting to take hold here in the US. Nintendo recognizes that fact and, as a result, they've announced that Yo-Kai Watch 2 will head to the West this fall.
For those of you who picked up the first Yo-Kai Watch, you might notice that a September 30 release date means that the second game in the series will be arriving less than a year after the first Yo-Kai game launched. Fear not, though, because that doesn't mean that the sequel has been rushed. The first two games in the series, along with a pair of spin-offs, were already out in Japan by 2015. Once the first Yo-Kai Watch shipped stateside, the team probably moved directly into localizing the sequel, hence the fast turnaround. Still no word on those spinoff games yet, sadly. Also, a third Yo-Kai Watch is due out soon in Japan, so it looks like we'll be set with this series for quite some time.
Now for the tricky part: Which version of the game will you pick? Yo-Kai Watch 2 will arrive in two flavors when it hits the States, including Bony Spirits and Fleshy Souls...Yep, that second one sounds kind of gross. Anyway, the game will allow players to adventure across a whole new town, as well as collect 100 new Yo-Kai and even travel through time.
This news comes to us, of all places, from BusinessWire. They had a chat with Nintendo of America Executive Vice President of Sales and Marketing, Scott Moffitt, who said that the decision to bring Yo-Kai Watch 2 to the states was based on the growing popularity of the property. The first game sold well and is continuing to move off of shelves as more people learn about the series. There's also a popular animated show airing on Disney XD, and a whole bunch of toys.
According to Moffitt, Nintendo plans on keeping the hype train running. Along with the second game in the series, a second season of the show has already been licensed for Disney, and even more toys are coming our way, too. It's unlikely Yo-Kai Watch will obtain the same astronomical amount of popularity it has seen in Japan, but it sounds like American audiences are warming up to it.
The success of the property is its clever, yet familiar formula. Coming from the team at Level-5, Yo-Kai Watch bears a striking resemblance to the Pokemon series. A bunch of youngsters run around catching creatures, training them and then using them in battles to collect even more. In Yo-Kai Watch, those creatures are various types of ghosts, spirits and the like, giving the series an ever-so-slightly darker edge. It also helps that the game is super easy on the eyes and controls well. There's also enough small touches to set it apart from games like Pokemon and, according to Japanese reviews, Yo-Kai Watch 2 improved on the handful of weak areas from the series' first game.
Sadly, since Nintendo plans to have an all Zelda E3, there's no telling when we'll get more details on this one. But, hey, at least we know it's officially heading our way.
Staff Writer for CinemaBlend.
Your Daily Blend of Entertainment News
Thank you for signing up to CinemaBlend. You will receive a verification email shortly.
There was a problem. Please refresh the page and try again.