Humble Indie Bundle 4 Includes Super Meat Boy, Cave Story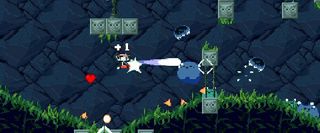 Humble Bundle Inc. announced the fourth Humble Indie Bundle today. Gamers can pay whatever they want for this game collection, with much of the proceeds going to the American Red Cross and the charity Child's Play.
The bundle will give you indie titles Super Meat Boy, Shank, Jamestown, Bit.Trip Runner, and NightSky. So far the average amount people have been paying is $4.88. If you spend more than that, you'll get two bonus games: Cave Story+ and Gratuitous Space Battles.
Your money will go to the developers, Humble Bundle Inc., the Child's Play Charity, or the American Red Cross. You can choose how your every cent of your money is divided. As far as I know, this is the first bundle that American Red Cross is a beneficiary. Previously customers were given an option to donate to the digital rights advocacy group Electronic Frontier Foundation.
So far the bundle has earned $346,598.07. The highest purchase was a whopping $3,500, though that appears to be a group donation. There are several other doners that gave hundreds of dollars, though.
Like other Humble offerings, this collection will only be available for two weeks.
Staff Writer at CinemaBlend.
Your Daily Blend of Entertainment News
Thank you for signing up to CinemaBlend. You will receive a verification email shortly.
There was a problem. Please refresh the page and try again.