Insomniac Working On PS3 Exclusive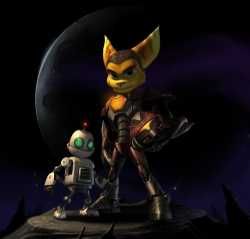 Employer's Group has ranked Ratchet & Clank studio as Insomniac Games as the fifth best place to work in California - but truthfully, we don't care. The reason the press release interests us is that it mentions the company's secretly working PS3 exclusive.
"Insomniac Games is currently developing an unannounced title, exclusively for PS3," was the exact quote from the release. No other details about said game were provided in the release, as it goes on to blather about how great it is to work at Insomniac and such. They're taking all the employees and their significant others on all expenses paid cruise to the Bahamas to celebrate the company's 15th anniversary, by the way.
It's not that big of a surprise that Insomniac would make another PS3 exclusive. In fact, I don't think they've made a game that wasn't for a Playstation. They're the folks behind Spyro and Resistance. The real question is, what are they making? They released Resistance 2 last November and Ratchet & Clank Future: Quest for Booty last August.
Staff Writer at CinemaBlend.
Your Daily Blend of Entertainment News
Thank you for signing up to CinemaBlend. You will receive a verification email shortly.
There was a problem. Please refresh the page and try again.