Jeremy McGrath's Offroad Racing Screenshots Emerge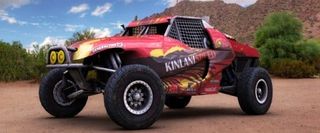 2XL Games released some new information and screenshots for the upcoming PSN and XBLA racer, Jeremy McGrath's Offrad Racing. The new shots are basically just still images of the vehicles, sitting on a dirt track looking pretty and like they're about to tear up the road.
Jeremy McGrath commented in the press release about the game, saying…
The game itself contains some nifty gameplay features, including 1080p graphics at a clean 60fps. The game features various offroad racing vehicles, including trucks, buggies and rally cars, with gamers being able to hit jumps, burn across hairpin turns and challenge up to seven other players with offline and online multiplayer modes. There's even a full, single-player PRO-2 Championship career mode for gamers who don't want to eat the dust of their friends in the multiplayer modes.
You can check out the new screenshots for the game below or learn more about 2XL Games' Jeremy McGrath's Offraod Racing by visiting the Official Website.
Staff Writer at CinemaBlend.
Your Daily Blend of Entertainment News
Thank you for signing up to CinemaBlend. You will receive a verification email shortly.
There was a problem. Please refresh the page and try again.