Jet Set Radio HD Gameplay Teaser Trailer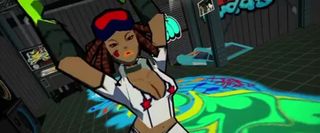 Sega released a new trailer for the upcoming Jet Set Radio HD teasing some of the gameplay gamers will have to look forward to, complete with graffiti-spraying, rail-grinding, bad-guy-bopping, counter-culture goodness.
The original Jet Grind Radio for Sega's Dreamcast was a real original title back in the day. It was back when originality was a key factor for being distinctive and creative juices were more important than bottom lines. Nevertheless, gamers who missed out on one of the Dreamcast's better titles can scope it out this summer on the Xbox 360, PS3 or PC.
Looks pretty rad, eh? Well if spraying up walls and skating around town is your idea of fun then Jet Set Radio HD will bring it in droves. The game also implements some moderate platforming elements to help rekindle those mad-skills Sega had you develop when playing the older Sonic games.
You can look for Jet Set Radio HD to become available this summer just after E3 for the Xbox 360, PlayStation 3 and PC, digitally. For more info feel free to visit the Official Website.
Your Daily Blend of Entertainment News
Staff Writer at CinemaBlend.