Last Of Us PS4 And PS3 Getting Free DLC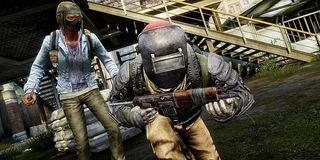 Naughty Dog has some good news for Last Of Us players on both PS4 and PS3. They're promising multiplayer bug fixes along with some free content.
Last Of Us's PS4 remake has been suffering from matchmaking issues. Many players have had to wait in long queues for the game's online modes. Naughty Dog says that they're starting to turn the corner on these problems. However, it could take a few weeks for all the rough edges to be polished.
"We have deployed LiveUpdates and Patch 1.02, which have resulted in some significant improvements, but there is still more to be done to reduce the matchmaking wait times," the studio said on their website.
"Over the last two weeks, we've discovered that the most significant improvements may come from working with other teams at PlayStation to make updates to some of the existing matchmaking libraries. Since we are working with multiple groups inside and outside of the studio, we don't yet have an exact date on when these updates will roll out. Our current estimate is on the short side of weeks, rather than months. We'll be sure to keep you updated the moment we can provide more specific timing, or an actual date."
In the meantime, they suggest a simple workaround for long queue times. If you find yourself waiting for extended periods of time, you should exit matchmaking and then re-select "Find Match." This obviously isn't ideal but might save you some aggravation.
In addition to bug fixes, Naughty Dog is also working on new content for Last Of Us. As a sort of apology for the online glitches, they've decided to release this multiplayer DLC for free.
"We're glad to say that we've decided to release these two maps for free on both the PS3 and PS4 in appreciation for all of your continued patience as we work to resolve the matchmaking issues."
No word yet on when these new maps will be released. The price tag of zero dollars is enough good news for one day, though.
Last Of Us Remastered debuted on PS4 at the end of July. The remake features 1080p visuals running at 60 frames per second as well as new audio options. You can see the side-by-side graphics comparison of the PS3 and PS4 versions here.
Remastered has a few extras as well. Photo Mode lets you easily take screenshots of various scenes from the game. The optional commentary from the development team gives some additional background information on the cutscenes. Remastered also includes all of the multiplayer and single-player DLC released for the PS3 version to date.
This poll is no longer available.
Staff Writer at CinemaBlend.