Legend Of Vraz: Hand-Painted Side-Scrolling Game Coming To PC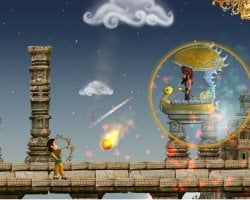 The age of the side-scrollers isn't entirely over. An independent development team from India is putting the finishing touches on their upcoming hand-painted side-scroller, The Legend of Vraz.
Developers Zatun, announced that the game will be making its way to the digital netwaves soon and will feature six through nine consistent hours of gameplay. This means that it's about as long as the standard $60 console game. Not bad.
Gamers will be able to platform, use a variety of weapons and overcome numerous obstacles as lead character Vraz battles the evil minions of Vizier. I'm thinking that this game is starting to sound like it has the makings of a good Bollywood flick.
You can check out a full list of the game's features below or visit the Official Website for more information on Legend of Vraz.
Game Features:
• A fun, fascinating and a forgiving game play.
• Game is easy to learn but hard to master.
• Exquisite hand painted 2D Art in Indian Miniature Painting style.
• Cute & adorable characters having their own personality & AI.
• 14 different enemies and 15 stages with 4 distinct locations.
• An incredible soundtrack immersing the player in the game.
• 5 different upgradable arrows and the ability to control the prince both with mouse and keyboard or mouse only or keyboard only depending upon the user preferences.
Your Daily Blend of Entertainment News
Staff Writer at CinemaBlend.