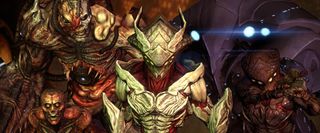 Next week BioWare will launch the biggest expansion yet to Mass Effect 3. The Retalation Pack provides a host of new enemies for players to face, including the Collectors from Mass Effect 2.
The Collectors will join the Geth, Reapers and Cerberus as selectable enemies for co-op. The insectoid Collectors come in five different varieties: Praetorian, Scion, Abomination, Trooper, and Captain. Other enemy races are getting upgrades as well; Cerberus is adding a Dragoon to their forces and the Geth are rolling out new Drones.
Fortunately players will be well-equipped for this new threat. They'll be able to earn three new weapons, three ammo types and five items. Furthermore, players will get access to new characters including the Turian Havoc Soldier and Turian Ghost Infiltrator. Additional characters will be added on a "regular" basis.
Retaliation will also bring six new maps. These maps will be dangerous on their own thanks to traps and environmental hazards. Players will have to withstand sandstorms, whiteouts, acid and other problems while fending off enemies.
To keep players engaged, BioWare is also implementing a new Challenges system. Players will have various goals to pursue that enable them to earn Challenge Points. These Points can then be spent on titles and banners that can be displayed in game.
Retalation will go live on October 9th on the PS3, Xbox 360 and PC. European PS3 owners will have to wait until October 10th, though. The new content is free across all platforms.
Image 1 of 6
Your Daily Blend of Entertainment News
Staff Writer at CinemaBlend.