Metal Gear Solid 5 Has Major Save Corruption Bug, Here's How To Avoid It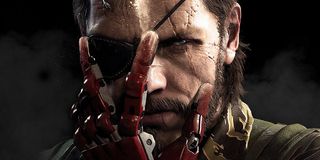 Metal Gear Solid 5: The Phantom Pain is a huge game with dozens of hours of entertainment. Unfortunately, a new bug is causing some players to lose all their progress.
Konami announced on their website that the bug is triggered by playing two missions while accompanied by Quiet:
While Konami indicate there that the bug will simply stop the game from saving, they say on Twitter that it "may corrupt your save file" altogether.
Not all players are experiencing this problem. It's better to play it safe, though. Robert Allen Peeler, community manager for Konami, said on Twitter that the save corruption bug can be experienced even if you played through these missions with Quiet previously:
Few bugs are scarier than ones that can wipe out your progress. It's downright painful to lose hours and hours of "work" through no fault of your own. Here's hoping that Konami patches out this issue quickly.
Metal Gear Solid 5: The Phantom Pain picks up a few years after the events of Ground Zeroes. Big Boss wakes from his coma and sets out to get revenge on the group that destroyed his mercenary army. He creates a new army, Diamond Dogs, to help him strike at targets throughout Afghanistan and Angola. As he builds up his army and its base, he gains access to new weapons and equipment. You can read more about the game in our review.
The game's multiplayer, an updated version of Metal Gear Online, will be arriving on October 6th on consoles and early 2016 on PC. Given the bugs in MGS5, Konami's decision to stagger the launch of Metal Gear Online turned out to be a smart idea. Cleaning up the single-player and multiplayer sides of the game at the same time would've been a daunting task, considering the scope of the online features.
Staff Writer at CinemaBlend.
Your Daily Blend of Entertainment News
Thank you for signing up to CinemaBlend. You will receive a verification email shortly.
There was a problem. Please refresh the page and try again.