Konami Is A Terrible Place To Work, Report Says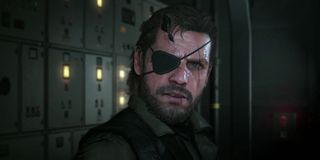 If you're unhappy with your job, a new report about Konami might make you feel better. The article alleges that the Metal Gear Solid 5 publisher treats its developers like garbage.
The Nikkei report (translated by Kotaku) says that staff are monitored constantly. Their movements are monitored by security cameras. When employees are outside the office too long for their lunch break, they're publicly shamed. Employees that don't deal regularly with outsiders (like PR or sales staff) have randomized email addresses that are changed every few months. Kotaku says emails are switched up like this to prevent headhunting.
Maybe the most shocking part of the report, though, is the treatment of game developers deemed unessential. Junior and senior staff alike can be reassigned as security guards, assembly line workers, or cleaners for Konami's fitness clubs. This lines up with a 2013 report from a 40 year-old developer at Konami who was tasked with disassembling old pachinko slot machines at their factory.
Previous reports from other publications said that Kojima and other senior staff would be fired after The Phantom Pain's launch and that the studio would be disbanded. Nikkei's article seems to corroborate those reports. They state that Kojima Productions is now simply called "Number 8 Production Department" within the company. Furthermore, the computers at "Number 8 Production Department" aren't connected to the Internet.
It's pretty clear to outsiders that Kojima Productions isn't long for this world. Konami has removed all mention of the company and Hideo Kojima from the website and box art for MGS5. They've also said that they're "conducting auditions for main staff to lead the development" of future Metal Gear games.
Money might be the reason that the relationship between Konami and Kojima Productions soured. Nikkei says that Metal Gear Solid 5's development cost over $80 million, presumably due to the game's numerous delays. That figure presumably doesn't include the money Konami is spending on worldwide marketing.
The turning point for Konami's culture, Nikkei says, was the release of mobile game Dragon Collection. The game managed to be very lucrative in spite of a tiny budget. Soon afterward, the company began pivoting away from hardcore games and toward these cheaper projects. I don't understand why an emphasis on mobile development would mean crappier work conditions. It does make sense that Konami would be much less willing to pay for a grand project like Metal Gear Solid 5 now that they developed a taste for smaller, cheaper games.
Konami has yet to respond to Nikkei's rather damning report. It's hard to imagine they won't defend themselves against such shocking allegations, though. We'll let you know if and when they do.
Staff Writer at CinemaBlend.
Your Daily Blend of Entertainment News
Thank you for signing up to CinemaBlend. You will receive a verification email shortly.
There was a problem. Please refresh the page and try again.