Metal Gear Solid 5 Multiplayer Won't Be Available At Launch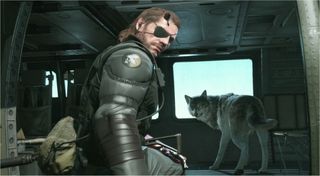 Konami recently made a blog post announcing the details of the Metal Gear Solid V: The Phantom Pain launch on PC, as well as when the multiplayer mode, dubbed Metal Gear Online, will be made available.
The post states that Metal Gear Online will not be available at launch but will arrive on October 6th, 2015 for the home consoles and it will be made available in January, 2016 for PC gamers.
The post originally detailed how the PC version of Metal Gear Solid V: The Phantom Pain was getting its release date moved up. Instead of launching several weeks after the home console versions of the game, PC gamers will be able to play The Phantom Pain on September 1st along with PlayStation and Xbox owners. That's probably some really good news for PC gamers. It's also a break in the trend where PC ports usually arrive later and broken, or they arrive on time but still arrive broken like Batman: Arkham Knight.
In this case, Konami seems to have a lot of faith in the Kojima Productions team to not only deliver a solid game but also deliver on a port that works right out of the box (or digital download).
The post wax poetics about The Phantom Pain being compatible with Nvidia GPUs and you can even get a free copy of the game when purchasing select graphics card units from Nvidia. I do worry about whether or not this means that Kojima Productions have utilized GameWorks in any way, because right now that's been a bane for AMD cards and has been linked back to a lot of performance issues for PC ports running on anything that isn't from the Maxwell brand of GPUs.
Given that Metal Gear Solid V: Ground Zeroes appeared to launch without any major issues on PC following a solid console release, I would assume that the developers already have a working standard on the GPU issues and won't get muddied in the AMD/Nvidia wars like Slightly Mad Studios and CD Projekt Red. For those who don't remember there was a lot of fireworks over GameWorks causing problems with AMD cards running Project CARS and The Witcher 3.
In the case of Metal Gear Solid V: The Phantom Pain, it's a fairly large game – it's 200 times the size of Ground Zeroes – so there will be a lot riding on the performance and optimization of the game. That's not to mention that the series now has operable vehicles, new day and night shifts, enhanced CQC, multiple side-missions and options for completing those side-missions, as well as optional AI companions. There's about as much in the way of complex graphics technology at play thanks to the Fox Engine as there is complex game mechanics.
Gamers will be able to experience all of Metal Gear Solid V's complexities when the title launches on September 1st for home consoles and PC.
It's unfortunate this comes at a time where Kojima and Konami are having a huge fallout, but hopefully this swan song from Kojima will live up to the hype and close out his tenure with Konami in a grand way.
Your Daily Blend of Entertainment News
Staff Writer at CinemaBlend.