NYC's Nintendo World Store Is Getting A Major Renovation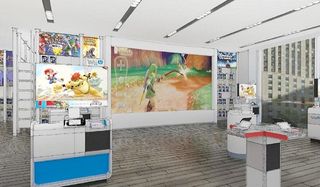 The Nintendo World Store in New York is getting a major renovation, including a name change, as well as a huge gaming screen for visitors to enjoy.
Located in Rockefeller Plaza, the (former) Nintendo World Store is currently closed for renovations. When it re-opens on Feb. 19, the Big N is promising a new look and feel to the hub of all things Nintendo, as well as a new name: Nintendo NY. The store will close its doors on Jan. 19, which means all planned remodeling should only take about a month to complete.
Nintendo of America Executive VP of Sales and Marketing Scott Moffitt explained in a press release that the renovations will turn Nintendo NY into a destination all games fans will want to visit.
When the store re-opens on Feb. 19, it's no surprise that one of the major attractions will be kiosks boasting some of the newest 3DS and Wii games. No information has been provided on what those games might be, but we're guessing that the popular shooter Splatoon and brawler Super Smash Bros. will be in the mix. Maybe we'll even get to see some of those new Smash characters a little early, yeah? And how about upcoming games like Fire Emblem Fates?
Those renovations will also include a 15-foot screen for gaming, as well as other "fun elements and surprises" like a massive bronze coin boasting the store's tagline, "Where everyone comes to play."
When the store re-opens on Feb. 19, that will serve as the kickoff of a weekend-long celebration. Nintendo is promising a big party, including giveaways and appearances by a couple of familiar faces, specifically Mario and Luigi. Visitors can also expect special souvenirs, such as a Mario or Link t-shirt, that will only be available during this renovation celebration.
The Nintendo World Store opened back in 2005 and, since then, it's been a major hub of all things Nintendo. If you haven't seen it yet, you've only got a few days to take in the sights before the doors close and the renovations begin. Otherwise, we only have a few weeks to wait before the doors are flung open on Nintendo NY.
And now we'll turn it over to our readers. What types of things would you like to see added to the new Nintendo store? For those of you who have visited before, is there something you hope to see Nintendo carry over into the new store? Let us know in the comments section below.
Your Daily Blend of Entertainment News
Staff Writer for CinemaBlend.