Nintendo Apologizes For Amiibo Shortages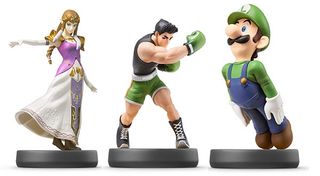 Nintendo's Amiibo have been huge. They've been selling like crazy and making the company lots of money. You can cue the meme of Miyamoto and Iwata saying "It prints money" because that's exactly what the Amiibo are doing. Well, the high-demand for the devices have left Nintendo in short supply, but Nintendo has apologized for the supply shortages and have promised a more aggressive and expansive commitment to the Amiibo brand.
Tech Crunch is reporting that Nintendo issued a press statement to address some of the concerns around the shortage of Amiibo units that have been released for various games, including Super Smash Bros. and Mario Kart 8, amongst others.
According to the Nintendo press release, they noted that some of the sold-out figures will be reissued, stating...
The statement also makes it known that Nintendo will be introducing brand new Animal Crossing Amiibo cards that will likely expand beyond just Animal Crossing. The company also announced that there is a new app for the Wii U called Amiibo Tap.
The new app will allow gamers to experience "playable scenes" from games on the NES and SNES associated with the Amiibo figures. It's almost like Nintendo is really getting a handle on the whole Amiibo business and are really cashing in big on the new endeavor.
The combination of high quality first-party releases and the Amiibo figures hitting the market late last year have actually helped in boosting the sales of the Wii U. According to the Nintendo Enthusiast the Wii U sales have seen a steady pace, despite being behind the PS4 and Xbox One at this point in the console race. Nintendo seems to have retreated to their "not competing" status once more now that the Amiibo have balanced out operating costs and they're turning a profit on their products.
Technically, with a more aggressive marketing strategy of the Amiibo and Wii U combination and a hefty price-cut to their home console, they could easily step back into the competitive limelight with Sony and Microsoft. However, it seems as if Nintendo has no desire to do so.
Then again, if all they have to do is ramp up production of the Amiibo figures – some of which are selling for crazy prices over on eBay, as noted by Eurogamer – and the 3DS and Wii U are selling enough to keep the investors happy, at his point I'm guessing they're just going to ride out the eighth gen while maintaining first place in Japan and third place in the rest of the world, all while counting the dollar bills in the bank.
Staff Writer at CinemaBlend.