NukoToy's Animal Planet, Monsterology Trading Card Apps Arrive This March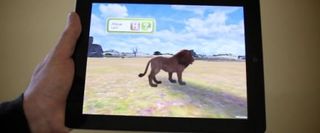 If you enjoyed off-beat, culturally inspiring games and software applications like Pokemon Safari, Venture Artic or Wild Earth, then you'll probably get a kick out of Nukotoy's upcoming iOS apps that enable you take trading cards and scan the contents right into the iOS device.
Animal Planet Nuko and Monsterology Nuko allows iOS owners (i.e., iPhone, iPod Touch or iPad) to press Nukotoys trading cards up to the screen and have the contents of the card appear in the app. It's kind of neat, a little like Monster Rancher meets Eye of Judgment. The technology isn't necessarily ground breaking and it arrives a few years after the EyeToy was already doing this kind of stuff back in 2008. However, the fact that this kind of technology works on mobile platforms so gamers of all ages can experience the Animal Planet or mythical creatures in Monsterology while on-the-go is quite impressive.
The products themselves operate a lot like Nintendo's NintenDogs for the Nintendo DS, enabling users to pet, play with, and observe animals and monsters in the respective apps. What's more is that multiple cards can be used in the apps, so you can toss in lions, tigers and bears if you so desire...all at the same time.
If you wanted a more diverse version of NintenDogs that caters to a broad range of animals with information and media available for each and every animal, then Animal Planet Nuko would be a nice little app to have on hand. If you want some mythical monsters and creatures to play around with on your mobile device then Monsterology Nuko would definitely be the way to go.
Both the apps and the official trading cards will be available for consumers beginning this March. To learn more about Nukotoys feel free to visit the Official Website
Your Daily Blend of Entertainment News
Staff Writer at CinemaBlend.
Your Daily Blend of Entertainment News
Thank you for signing up to CinemaBlend. You will receive a verification email shortly.
There was a problem. Please refresh the page and try again.