One Piece Sets Sail For The Wii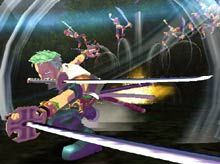 One Piece, the popular anime staring everyone's favorite rubber pirate, will be debuting on the Wii in One Piece: Unlimited Adventure. Published and developed by Namco Bandai, Unlimited Adventure will be released in early 2008.
Stranded on a strange island that rises from out of the water, the Straw Hat Pirates must explore the land and fight the villains they encounter and uncover the secrets the island holds. There are 40 playable characters, each with their own move set, which are unlocked by playing through the Survival and Vs. modes. The way you use the Wii Remote and Nunchuck will alter for each character's special moves, which will allow players to really feel the difference between playing the different roles.
Unlimited Adventure is sure to have everything that any One Piece fan would want. Will it offer more than just fan service? It's hard to say at the moment. We'll find out in the coming months.
Scroll down for some horridly bland screenshots.
Your Daily Blend of Entertainment News
Thank you for signing up to CinemaBlend. You will receive a verification email shortly.
There was a problem. Please refresh the page and try again.