PS3 Japanese Exclusive Coming To Xbox 360, PC In North America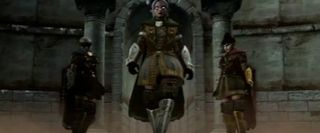 It's safe to say that most gamers have remakes, reboots and sequels to look forward to in 2012 for consoles and PC. However, an IP many North Americans aren't familiarized with will also make an appearance on retail shelves for PS3, PC and Xbox 360 and it's called Clan of Champions.
The game was once a PS3 exclusive over in Japan, and publisher NIS America has decided to turn the game into a multiplatform title. According to Siliconera, Nippon Ichi wasn't going to be bothered making the game multiplatform due to the poor sales and reception of the Xbox 360 hardware and software over in Japan. However, NIS America sees a lot of potential for the IP in the North American market, especially given that it's the kind of game that fits within a genre that isn't overly competitive right now.
Clan of Champions is basically like a console version of DevCat Studios' Vindictus, with some physics playing a role in the combat but most of it is about hack-and-slash, visceral, in-your-face confrontations with either a sword and shield, dual swords or martial arts. The game also sports a detailed character customization feature, allowing gamers to alter the look and feel of their champion. You can check out a brief video of the game below.
Nevertheless, NIS America isn't just about releasing a single game that was popular in Japan for an American audience, they also have plans to tap into the PC gaming market as well, with the president of NIS, Haru Akenaga, saying…
Microsoft usually makes publishers sign a three game publishing contract for the Xbox 360. NIS America had to go through the same thing, according to the Siliconera article. This means that after Clan of Champions there will be two more games planned for release on the Xbox 360 as well. What those two games will be and when they will release are entirely up in the air for now but rest assured they are coming. Akenaga stated that he can't give out any details on the games just yet.
Staff Writer at CinemaBlend.
Your Daily Blend of Entertainment News
Thank you for signing up to CinemaBlend. You will receive a verification email shortly.
There was a problem. Please refresh the page and try again.