PS4 Price Cut Coming This Fall, Retailer Says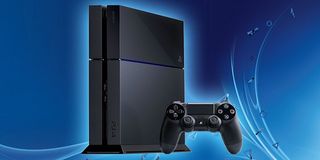 It looks like even more weight has been added to rumors that the PlayStation 4 will receive a price cut here in the United States as Target earlier today had an upcoming bundle advertised with a $50 reduction in price.
To be clear, everything we're reporting here is only a rumor at this time, as the original advertisement has since mysteriously vanished from the store's website. The original report comes from Gamespot, who has posted an image of the advertisement that now has bargain hunters buzzing.
In the original advertisement, Target had an upcoming bundle boasting the PlayStation 4 and Uncharted: The Nathan Drake Collection listed at $349.99. The PS4 traditionally retails at $399.99, the same price point from when the console launched two years ago in November of 2013.
A couple of events in recent months have spurred on this PS4 price cut buzz, beginning with a similar discount in Japan. Sony's console saw a drop in price that's the equivalent of $50 in its home country though, at the time, spokespersons for the company stated that similar plans were not in the works for other territories.
More recently, Xbox's Phil Spencer stated that he expected to see a drop in price for the PlayStation 4 heading into the holiday season. He stated this was due to past console generations and the trends Sony has established, with the first price cut for new hardware usually coming about two years after the initial launch. As stated above, this latest rumor lines up with that timeframe perfectly.
At this point, this feels like one of those rumors that have more than a little likelihood of actually panning out. Not only does the recent Target promotion make a PS4 price cut seem likely, but a drop of 50 bucks should provide an even bigger boost for the console during a time of year that's already huge for game machines. And with all of that extra excitement brewing for upcoming games like Uncharted 4, No Man's Sky and Street Fighter V, announcing a price drop right about now would only further the PS4's already stellar performance.
If Sony does decide to drop the price of the PlayStation 4, we'd be interested to see if Microsoft has anything planned to keep hype going for its own machine. They've got a bunch of new bundles coming out this holiday season, but those might get overshadowed if Sony actually drops the PS4 down by $50. For a console that's not quite keeping up with the competition, Microsoft might need to think up something outside of its new Xbox One operating system to get gamers excited for the console.
Assuming the price cut does happen, do our readers think it'll help the PlayStation 4 steal the show this holiday season? Let us know in the comments below.
Staff Writer for CinemaBlend.