PS4 Update 1.6 Adds Wireless Headset Support, Gold Headset Announced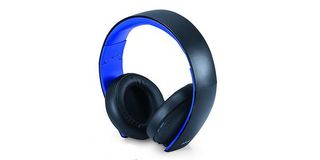 This week Sony will implement a system update 1.6 for the PS4. This patch will add support for the PULSE and PULSE - Elite Edition wireless stereo headsets to that console.
If you're still in the market for a headset, Sony has another one on the way. The Gold Wireless Headset will be hitting stores in early February. Like the PULSE sets, it supports surround sound.
"This new headset offers 7.1 virtual surround sound, custom audio modes created by developers specifically for PlayStation games, a hidden noise cancelling microphone for voice chat while playing online, customizable faceplates, and other features –all for $99.99 (MSRP)," said John Koller, vice president of marketing for consoles and handhelds at SCEA, on the PlayStation Blog.
The Gold headset can be used wirelessly with a PS4, PS3 or PC. The battery supports up to eight hours of gameplay before it needs to be recharged via USB. It can also be hooked up to a mobile device or Vita with a 3.5mm audio cable. The headset can be folded up and carried in an included travel pouch.
Fortunately, "Gold" is just the name. It's actually black with blue lining to match the PS4. As Koller said, you'll be able to swap in other faceplates to customize its appearance. I've yet to find any other faceplates for the headset yet but I'm sure they're on the way.
Both the Gold headset and PULSE - Elite Edition headset will be enhanced by a Headset Companion App. This free app, launching later in the month, allows you to choose from several preset audio modes for games, movies and music. Some developers will even create modes specifically geared toward their games. The first custom mode will be released by Sucker Punch for their PS4 exclusive inFamous Second Son. The app also allows you to tweak the audio to your own tastes.
Patch 1.6 will go live on the PS4 with the PlayStation Store update on Tuesday. PS Store updates typically occur in the mid-to-late afternoon (Eastern).
Image 1 of 2
Your Daily Blend of Entertainment News
Staff Writer at CinemaBlend.