Pizza Delivery Boy Coming To Nintendo Wii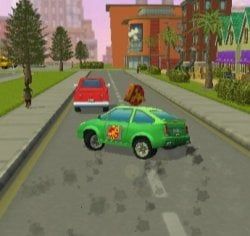 Majesco recently announced that one of the most unused concepts for video games is actually coming to the Wii, and no I'm not talking about "Wii Gynecologist" I'm talking about being a full-fledged Pizza Delivery Boy.
Now some of you might be thinking that this concept isn't all that new given that players did command the kung-fu pizza guy in Dominoe's Avoid the Noid and there were pizza delivery mini-games in the 3D renditions of Grand Theft Auto. However, there really aren't any games out there where you make a pizza, stuff it in a box and actually hop on a moped and rush it over to a customer's house. Yeah, this game is hardcore.
According to Gui Karyo, Executive Vice President of Operations for Majesco, he commented in the press release, saying...
The game is chockfull of cool features, including spending your days off as a pizza boy competing in cooking contests or taking on side-missions that involve street races and other mini-game tasks. Players will have to delivery pizzas throughout three major cities, avoiding all kinds of hazards just like the classic Paperboy. The game sounds kind of fun, actually.
Pizza Delivery Boy is due out exclusively for the Nintendo Wii sometime in the winter of 2010. For more info feel free to visit the Official Majesco Website.
Staff Writer at CinemaBlend.
Your Daily Blend of Entertainment News
Thank you for signing up to CinemaBlend. You will receive a verification email shortly.
There was a problem. Please refresh the page and try again.