PlayStation All-Stars Getting Sackboy Fix, New Item Next Week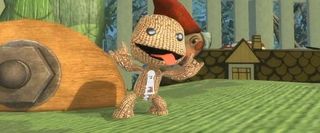 PlayStation All-Stars Battle Royale has only been out a couple of weeks and already the team at SuperBot Entertainment are ready to roll out the game's first set of tweaks. Next week, players of Sony's mascot-infused four-player brawler can expect a few behind the scenes tweaks, a brand new item, and a nerf for the most abused character on the roster: Sackboy.
I know what you're thinking: Sackboy is a cute, playful, adorable little ball of fluffyness. If you've ever fought someone in Battle Royale who knows how to exploit his over-the-top moves properly, however, then you know that he can also be a real pain in the butt to go toe-to-toe with. I'm all for a fair fight, but some of Sackboy's moves simply generated far too much AP, which meant he was able to easily activate his killer finishing moves way too quickly. Oh, and then there's the fact that those finishing moves cost so little AP to activate in the first place. If all of that was alien to you, don't worry about it. The short of it is this: Sackboy was a bit too beastly and now SuperBot is addressing it.
Revealed by Community Manager Daniel Maniago on the developer's blog, a patch will be launching for All-Stars Battle Royale "early" next week.
For starters, the cost to activate Sackboy's supers have been increased and his two most uneven AP-gainers, Jam Session and Cakeinator, will no longer build up AP quite so quickly.
Other tweaks include network performance improvements such as better player skill-based matchmaking, better enemy AI, the ability to view invited from the Party Bar Menu and, perhaps most interesting to those who could care less about Sackboy, a brand new item. The new item is called "Medusa's Gaze," and I'm going to go out on a limb here and guess that it has something to do with temporarily turning your enemies into stone.
Look for all of that PlayStation All-Stars: Battle Royale goodness to automatically plug itself into your new favorite fighting franchise sometime next week.
Staff Writer for CinemaBlend.