PlayStation Discounts Fighters With Knockout Sale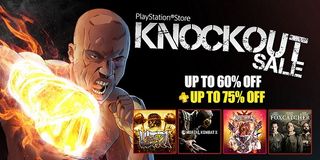 Fans of fisticuffs have a lot to get excited about this week as Sony unveils its Knockout Sale, a weeklong bargain binge on fighting games and movies.
Revealed this afternoon on the PlayStation Blog, this week's sale offers up to 60 percent off on digital content boasting a heavy emphasis on punching things, with PlayStation Plus members enjoying discounts of up to 75 percent off instead.
These offers end next Monday, July 20, so be sure to grab anything that catches your fancy before then. Here's a quick rundown of what you can expect through the Knockout Sale.
PlayStation 4
-Guilty Gear Xrd –SIGN-
-Mortal Kombat X/Premium Edition
-Towerfall Ascension
-WWE 2K15
PlayStation 3
-Arcana Hearts 3
-BlazBlue: Chrono Phantasma
-Capcom Fighting Evolution
-Cartoon Network Punch Time Explosion XL
-Darkstalkers Resurrection
-Digimon All-Star Rumble
-Girl Fight
-Guilty Gear Xrd –SIGN-
-Jojo's Bizarre Adventure: All-Star Battle
-Kickbeat
-Mortal Kombat Komplete Edition
-Pocket Fighter
-Saint Seiya: Brave Soldiers
-SoulCalibur V
-SoulCalibur II HD Online
-Street Fighter III: 3rd Strike Online Edition/Complete Pack
-Super Street Fighter II Turbo HD Remix
-Tekken Tag Tournament 2
-Ultra Street Fighter IV
-Under Night In-birth Exe: Late
-WWE 2K15
PS3/PSP/PS Vita
-Street Fighter Alpha
-Street Fighter Alpha 2
-Street Fighter Alpha 3
PSP
-Def Jam Fight for New York: The Takeover
PSP/PS Vita
-BlazBlue Continuum Shift II
-Fight Night Round 3
-Power Stone Collection
-SoulCalibur: Broken Destiny
PS Vita
-BlazBlue: Chrono Phantasma
-BlazBlue: Continuum Shift Extend
-Kickbeat
-Mortal Kombat
-Street Fighter X Tekken
That's quite a hefty lineup of games, boasting a little something from pretty much every corner of the fighting genre. I'm also a fan of the fact that a bunch of older games are included in this promotion, alongside newer games like Guilty Gear Xrd and even Mortal Kombat X.
Along with all of those games, the Knockout Sale is also discounting a boatload of movies for those of you looking to watch a good fight rather than take part in one with a controller in hand. You can expect everything from Dragon Ball: Evolution to fight-fests like Crouching Tiger, Hidden Dragon, The Raid: Redemption and, of course, Fight Club.
So, eager readers, what looks good to you?
Staff Writer for CinemaBlend.
Your Daily Blend of Entertainment News
Thank you for signing up to CinemaBlend. You will receive a verification email shortly.
There was a problem. Please refresh the page and try again.