PlayStation Update 4.25 Adds Additional Cloud Storage For Plus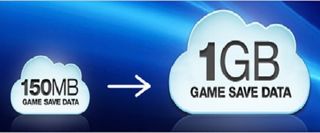 Playstation 3 update 4.25 went live last night and, if you're having trouble figuring out what, exactly, the update did, the simple answer is: Not very much. If you're a PlayStation Plus subscriber, however, you now have one full gigabyte of cloud storage for uploading saved game files.
Apparently updating cloud storage for plus users required a firmware update of its own. After about 12 hours of being live and searching multiple boards, I can't find anyone who has discovered any further additions to the PS3's OS. No new security measures. No new apps or tweaks to web browser or anything. It looks like 4.25 is about as bare bones as it gets.
Sony announced through the PlayStation Blog yesterday that 4.25 and one gig of save storage for Plus users would be coming soon, urging everyone to "stay tuned" to the site for future updates. That update from the blog never came, but that didn't stop 4.25 from going live within about an hour.
The old storage limit for Plus cloud saves was 150 megabytes. That might seem like a lot for save files but, as I personally came to find out, those save files take up quite a bit more space than you would expect. When you've got games like Zen Pinball 2 creating a separate save file for each of its 30-odd tables, for instance, those 150 megabytes disappeared pretty quickly. Now with nearly 10 times as much space, that cloud service finally offers all the room you will likely ever need to keep your save files secure.
To download the update, simply turn on your PS3 and try to sign in. That, or you can go to the manual update option under the system tab.
Your Daily Blend of Entertainment News
Staff Writer for CinemaBlend.