Plus Games Headline Weekly PlayStation Update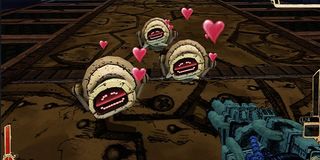 The PlayStation Network is set to undergo its usual restock on Tuesday afternoon. And this week, half of this month's new PlayStation Plus games will be added to the collection.
Sony announced the PS+ games for April last week, including a pair of games each for the PlayStation 3, PlayStation 4 and PlayStation Vita. Three of those games were not yet available on the Network, but on Tuesday, that'll change.
First up is MonsterBag, an adorable-looking game about a lost monster. As V, your job is to catch up to your human companion, Nia, without being noticed by any fearful humans. Check it out:
While MonsterBag is arriving for the Vita this week, the other two Plus games are actually available for the PS4 and PS3. Aaru's Awakening is an artistic platformer that utilizes portals and requires fast reflexes to move about. Tower of Guns, on the other hand, is all about shooting stuff. Inspired by classic titles from the FPS genre, Tower of Guns is a somewhat randomized blast-a-thon that mixes typical shooting mechanics with bullet hell dodging in a 3D space...Perhaps this is better shown than told:
On top of those games, the PlayStation Network will also offer a handful of other new games this week.
First up, a game that probably doesn't require an introduction, Bastion is finally coming to the PlayStation 4. If colorful questing in a fully-narrated world doesn't suit your fancy, then perhaps you would prefer a more somber romp through Dark Souls II: Scholar of the First Sin. Arriving on both the PS4 and PS3, this enhanced game from the maker of Bloodborne includes all of the DLC for Dark Souls II, as well as some new content and retooled enemies.
Stealth Inc. 2: A Game of Clones will sneak onto all three PlayStation platforms this week, once again testing your ability to make it through a high-tech testing facility without being spotted. Krinkle Krusher is also launching on all three platforms this week, a game where you must cast spells to defend your castle from a steadily moving mass of monsters.
Finally, there's Element4l for the PlayStation Vita. Described in the official announcement as an "experimental platform game," you control a cluster of elements journeying through nature on a quest to bring life to an empty world.
Look for all of that - as well as the usual selection of DLC, demos, and whatnot - to hit the PlayStation Network on Tuesday afternoon.
Staff Writer for CinemaBlend.
Your Daily Blend of Entertainment News
Thank you for signing up to CinemaBlend. You will receive a verification email shortly.
There was a problem. Please refresh the page and try again.