Pokken Tournament Coming To Wii U Next Spring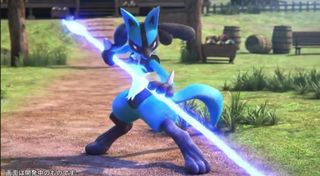 Nintendo still has some gas left to burn in the tank of the Wii U. The console may be down but it's not out... yet. The Big 'N' announced along with Bandai Namco Games, that Pokken Tournament, the 3D fighting game, will arrive worldwide on the Wii U in the spring of 2016.
VG 24/7 posted up the new video trailer for the game that confirms the release window and some of the characters that will be playable in the upcoming Pokemon-based fighting game.
The trailer is action packed from start to finish. We get to see a number of popular Pokemon make an appearance in the trailer and duke it out in one-on-one matches. The highlight of Pokken Tournament is that the fighting arenas are similar to Tobal No. 1 or Tekken 4 where you can move around the arena a bit more freely due to the 3D environments as opposed to being locked into a side-scrolling affair like Street Fighter or Mortal Kombat X. Some gamers have described the gameplay as being a mix of Dragon Ball Z: Budokai Tenkaichi and Naruto Shippuden: Ultimate Ninja Storm, with a strong hint of Tekken's grounded combo mechanics – all three of which are published by Bandai Namco Games.
Each character has a number of special attacks that they can unleash either at a range or up close and personal, and there are also combo moves that can be dispensed on opponents with chains, cancels and breaks.
The trailer does a really good job of showcasing each Pokemon fighting in a way that is usually relegated to animes, so it's nice to see this style of fighting make its way into the world of 3D fighting games.
This is also the kind of Pokemon game that gamers have been craving for quite some time. Requests and e-begging for a Pokemon Stadium game like this to arrive on the Wii U were previously met with silence, but it looks like Nintendo was listening after all.
There is a lot of excitement for this game, especially with its arrival on the Wii U. However, some feel as if this is a bit too late into the life span of the Wii U to really kickstart it and get it back into the console wars. At this juncture the Wii U is now in third place due to some questionable decisions by Nintendo and games like this will likely not put it back into the running, but will at least give it a solid farewell as it makes way for Nintendo's NX... whatever that is.
We can expect to see Pokken Tournament arrive for the Wii U in spring of 2016, globally. No staggered release dates this time around. The game, at the moment, is currently tearing it up on the arcade scene in Japan and there are some cabinets distributed throughout Dave & Busters locations here in the good 'ole U.S., of A.
Staff Writer at CinemaBlend.
Your Daily Blend of Entertainment News
Thank you for signing up to CinemaBlend. You will receive a verification email shortly.
There was a problem. Please refresh the page and try again.