Rapala Pro Bass Fishing Announced For Every Major Gaming System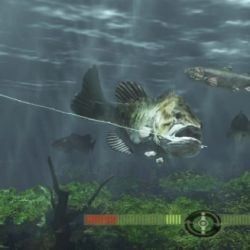 Activision is keeping their casual commitments active with an announcement about Rapala Pro Bass Fishing coming this fall for every major gaming console that's still alive. But that's not even the big news…Activision has also announced that a motion-reel device will be available for the PS3, Xbox 360 and Wii.
David Oxford, Activision Publishing commented in the press release, saying…
The appeal of the game comes in the form of its TV-style presentation, giving gamers a sort of in-the-moment feel as the action unfolds over various bass fishing tournaments. If that's not enough, a 2-player mode is also present with more than 50 competitive events available for gamers to participate in.
You can look for Rapala Pro Bass Fishing to hit store shelves this fall for the DS, PSP, Wii, PS3, PS2, Xbox 360 and PS3. For more info be sure to hit up the Official Website.
Staff Writer at CinemaBlend.
Your Daily Blend of Entertainment News
Thank you for signing up to CinemaBlend. You will receive a verification email shortly.
There was a problem. Please refresh the page and try again.