Red Dead Redemption Game Of The Year Edition Rides Into Stores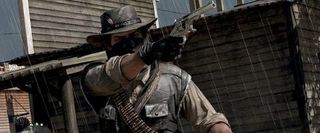 Rockstar Games has re-released their Western adventure Red Dead Redemption to stores. The Game of the Year Edition, available on PS3 and Xbox 360, includes the base game as well as all of its DLC and pre-order bonuses.
Here's a run-down on the $49.99 GOTY edition's contents:
Original Red Dead Redemption game with a brand-new hardcore single-player mode
Undead Nightmare single-player campaign and multiplayer modes
Legends and Killers Pack, featuring additional multiplayer map locations, multiplayer characters, and the Tomahawk projectile weapon
Liars and Cheats Pack*, including the Stronghold multiplayer competitive mode, Free Roam gambling games, multiplayer horse races with combat, and the Explosive Rifle
Hunting and Trading Outfits Pack, featuring two outfits with corresponding gameplay challenges for John Marston
Outlaws To The End Co-Op Mission Pack*, including six co-op missions for up to four players
All original pre-order content, including the Deadly Assassin Outfit, War Horse, and Golden Guns Weapon Pack
Solomon's Follysingle-player gang hideout and challenges available for the first time on Xbox 360;
Myths and Mavericks Bonus Pack, featuring fan-favorite multiplayer characters and all-new locations to battle in.
Redemption is set in the closing days of the Wild West era. Former outlaw John Marston has been strong-armed by the government into hunting down his former criminal associates. His journey will take him from the American frontier to Mexico and back.
Undead Nightmare is the only DLC requiring a little more explanation, as it's a bit unusual. In its standalone single-player campaign, the Wild West is overrun with zombies. Marston must rescue the few survivors and also find a cure. Undead Overrun, a new multiplayer mode, tasks players with fending off waves of infected.
Back in May 2010, we gave Redemption five stars. Read our review to find out why.
Staff Writer at CinemaBlend.
Your Daily Blend of Entertainment News
Thank you for signing up to CinemaBlend. You will receive a verification email shortly.
There was a problem. Please refresh the page and try again.