Ricky Carmichael's Motocross Matchup Pro Now Free For PC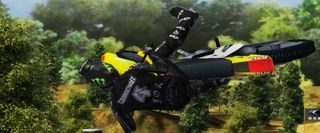 2XL Games announced today that Ricky Carmichael's Motorcross Matchup Pro is currently free-to-play on PC and what's more is that the game encourages PC users to play cross-platform against iOS and other mobile gamers. Pretty cool, eh?
2XL obviously wanted to break down barriers and excel where no other publisher has excelled, and they seem to be aiming to do so with the motorcross racing genre. Ricky Carmichael's Motorcross Matchup Pro is the first motorcross racing game to offer competitive cross-platform multiplayer and gamers can finally throw down the gauntlet and decide who has better finger skills between PC gamers and mobile gamers.
As stated in the press release...
The game also sports indoor and outdoor tracks based on real-life 2011 motorcross and supercross circuits. What's more is that with the iPad supporting TV-output support you can play on your big screen and compete against the dreaded keyboard and mouse PC gamers to see who can tear up the track better.
I might give this game a go later on in the day because it seems pretty cool being able to play against other platform users, especially mobile phone users. It would be embarrassing if PC gamers get owned a lot in the races, though.
Anyways, you can grab a copy of Ricky Carmichael's Motorcross Matchup Pro right now, for free, for PC. Alternatively you can learn more about the game and its availability on mobile devices by visiting the Official Facebook Page.
Staff Writer at CinemaBlend.
Your Daily Blend of Entertainment News
Thank you for signing up to CinemaBlend. You will receive a verification email shortly.
There was a problem. Please refresh the page and try again.