Riders Of Rohan Charge Into Lord Of The Rings Online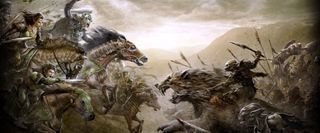 Lord of the Rings Online is changing. I see it through my monitor. I hear it through my speakers. The Riders of Rohan are here. Horrible nod to the movie series' opening monologue aside, all that stuff I just said is true. The Riders of Rohan expansion has finally arrived for LOTRO, adding a massive chunk of content to Turbine's free-to-play MMORPG set in the world of Tolkien's most famous work.
"We are really excited to launch Riders of Rohan, our fourth major expansion to the game," said LOTRO Executive Producter Kate Paiz. "This is our biggest expansion yet and we're very excited about the introduction of the industry's best mounted combat system, which brings a whole new form of gameplay to MMO players."
While LOTRO is at its heart a free-to-play title, the Riders of Rohan DLC, like all of the game's expansion, is going to cost you. But as Paiz says, it's quite a massive chunk of content they're throwing at you this time around.
First up, players will be able to explore the game's largest landscape yet, featuring hundreds of new quests, new favor's to earn, loads of new gear, deeds and more. Being the "Rider" of Rohan expansion, you'll also be introduced to mounted combat, offering a brand new way to play the game and wage war out on the open battlefields of Middle-earth. This means you'll have to master new war-steeds to get the most out of the content.
The Rohan expansion also raises the level cap to 85 while offering the latest chapter in the Epic story. While the Fellowship makes its way to Mount Doom, you and your fellow riders must draw the Eye of Sauron with your heroic deeds so that the world's heroes may sneak past unnoticed.
The Riders of Rohan expansion is available on the official website. This latest content comes in a variety of packages, all of which include the core expansion and a handful of other goodies. The Base Edition is $39.99 and includes 1,000 Turbine Points to spend in-game, the Steed of the Eastemnet, a Friend of the Mark title, and new instances. The Heroic Edition is $49.99, includes everything from the Base Edition, as well as a special piece of armor and the Evendim, Moria and Lothlorien quest packs. Finally, the Legendary Edition is $69.99 and includes everything from the previous two editions, as well as another 1,000 Turbine Points, the full suit of Eastemnet armor, a sixth inventory bag, a Crystal of Remembrance and other "exclusive Rohan content."
Staff Writer for CinemaBlend.
Your Daily Blend of Entertainment News
Thank you for signing up to CinemaBlend. You will receive a verification email shortly.
There was a problem. Please refresh the page and try again.