Rock Band Standalone Peripherals Get Price And Date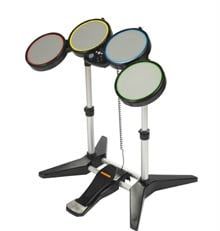 Virtual rockers who have been denied the Rock Band experience due to cost may now proceed to the rejoicing phase. Harmonix and EA have announced the release dates and pricing for standalone drum and guitar units for Rock Band. You should get ready to rock in the U.S. beginning February 12th.
"The release of standalone instruments allows Rock Band musicians to enjoy the full Rock Band experience, including drum, microphone and guitar head-to-head modes, creating a whole new level of competitive fun," said Alex Rigopulos, CEO and co-founder, Harmonix in a press release. "We're also delivering a stand-alone wireless guitar solution for all versions of Rock Band as well as providing the opportunity for consumers to build their band one instrument at a time."
What does this mean for your Rock Band enjoyment? Mostly it means expanding your experience. More duel mode competitions will be possible if you can own two microphones or drum sets without purchasing the huge bundle multiple times. Just remember that if you want to battle it out in a versus mode, both 360's running the game must have any DLC in order to work. A wireless version of the Fender is also in the works.
The Rock Band Drum Kit for the Xbox 360, PS3 and PS2 will be available February 12th for $79.99. The wireless guitar will hit stores on April 1 for $59.99.
Your Daily Blend of Entertainment News
Staff Writer at CinemaBlend.