SOCOM 4 Dev Doc Covers The Tension Of Single-Player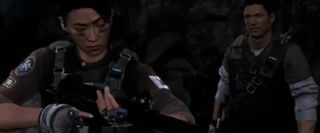 The developers behind SOCOM 4 are working hard to convey an authentic military experience that not only enhances what players have experienced in previous SOCOM games, but to also offer up a brand new narrative that borrows a little bit from the Modern Warfare, blockbuster movie angle.
While the set pieces probably won't consist of buildings on a snowy cliff that go up in a huge explosion while the main characters rappel down the side of the mountain in slow motion, SOCOM 4 will feature a more tension-ridden storyline for the single-player campaign that will put the main characters in some pretty hot water. The concept of adding in Korean special forces to the mix also adds a little bit of originality to the otherwise overused, out-numbered and out-gunned American soldiers on foreign territory tale.
You can check out the new developer documentary below or head on over to the <=""> to learn more about what the game will feature and some of the new multiplayer modes being tossed into the game.
Your Daily Blend of Entertainment News
Staff Writer at CinemaBlend.