Sacred 2: Fallen Angel, Better Looking On PS3?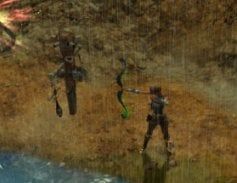 CDV has recently released some new screenshots for Sacred 2: Fallen Angel for the PS3. And if I must say so, the game seems to sport clearer textures and better resolution for the PS3 version of the game. The new set of screenshots reveals everything and you can take a look for yourself.
It wasn't but a short while ago that we just posted Xbox 360 screenshots for Sacred 2. They weren't bad looking but if you compared the two (which we won't be doing today) you would notice that the PS3 shots look…well, cleaner, clearer and crisper.
The difference isn't something that's conspicuously apparent, but it is noticeable. Again, though, this isn't our Weekly Battle Bout, so it's not like it means anything.
Anyway, the game is due out on March 24th for the Xbox 360 and PlayStation 3. You can check out the new screenshots below, and be sure to stay tuned in with Blend Games for more news and updates regarding all things gaming.
Image 1 of 6
Image 2 of 6
Image 3 of 6
Image 4 of 6
Image 5 of 6
Image 6 of 6
Staff Writer at CinemaBlend.