Sacred 2 Goes Gold For PS3: Better Late Than Never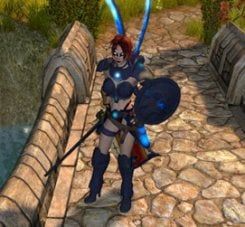 I may have referred to PS3 ports as being the slow, under-developed kid who sits in the back of the class that's always last to answer, and for some reason that figurative connotation still applies, but at least the gaps between the ports has narrowed greatly. CDV has just announced that a week after the 360 version went gold, Sacred 2 for the PS3 has gone gold. And as they say, 'tis better a week than six months.
For those of you who don't know, "going gold" means that the developers have completed development on the game and that the game is ready to be prepped for packaging and retailer availability. So yeah, Sacred 2: Fallen Angel for both the 360 and PS3 is now gold.
The game features multiple classes to choose from, two branching campaigns and the most important feature of them all: up to four-player cooperative gameplay via online, or two-player offline play.
Sacred 2: Fallen Angel for both the Xbox 360 and PlayStation 3 will be available on May 12th. You can learn more about the game by visiting the Official Website. For more gaming news, info and updates, be sure to stay tuned in with Blend Games.
Your Daily Blend of Entertainment News
Staff Writer at CinemaBlend.