Saints Row: The Third - Enter The Dominatrix Announced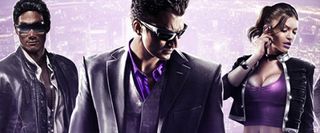 Saints Row: The Third - Enter The Dominatrix, initially intended as an April Fool's prank, is now a reality. Volition is currently developing Dominatrix for the PS3, Xbox 360 and PC.
Dominatrix, described as the "groundbreaking" standalone expansion pack to Volition's over-the-top open-world title, is due for a release this fall. The game follows the direction of SR3 and adds the most requested gameplay features stemming from the player community: "freaking super powers."
"Faster than a speeding cyber jetbike, more powerful than a roided-out Luchadore, able to leap flying aircraft carriers in a single bound... That's the power you'll find inside the Dominatrix. Use it for good. Use it for evil. Use it for whatever you want. As always in Saints Row, it's up to you," said Danny Bilson, THQ's EVP of Core Game Production. "With a franchise with more than 11 million units shipped globally, it's incredibly gratifying to have the flexibility to give Saints Row fans the features they want most."
Enter the Dominatrix takes place after the events of Saints Row: The Third. "For centuries, alien warlord Zinyak has eyed Earth and its precious natural resources and females with a watchful eye. As he prepares an armada for invasion, he has only one worry: the Third Street Saints," said THQ on the expansion.
"Once a simple street gang from Stilwater, the Saints have evolved into a global empire, replete with bombastic TV advertising and tasteful consumer products, the kind of TV advertising and consumer products that would give any alien warlord pause. Clearly, the Saints are the biggest badasses on Earth."
To prepare for invasion, Zinyak captures the leader of the saints and traps him in the titular Dominatrix, a virtual reality version of Steelport. Like the simulation in The Matrix, it's designed to pacify the people hooked up to it. The Saints aren't so easily controlled, though.
More details and gameplay footage of Saints Row: The Third - Enter the Dominatrix will be unveiled during the summer.
Your Daily Blend of Entertainment News
Thank you for signing up to CinemaBlend. You will receive a verification email shortly.
There was a problem. Please refresh the page and try again.