Save Stickmen From Death In Stick Man Rescue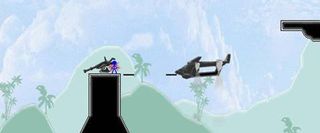 Today California-based studio TikGames announced that they're working on a PSP minis game. Stick Man Rescue will be available to download through PSN next month. PlayStation Plus members will get the first chance to grab it, with everyone else receiving it a couple weeks later.
In Stick Man Rescue, players must rescue Black Stick Men from the Evil Blue Stick Minions. You'll pilot a rescue copter and fight paratroopers, zeppelins and more. Through your efforts, you'll prevent the Black Stick Men from grisly fates like decapitation and electrocution.
"I know I'm not the only guy who grew up drawing stick men on fire, falling off cliffs, or landing on spikes," said Alex Tikhman, Co-Founder and VP of Publishing & Business Development for TikGames. "Back then, I wanted to make a video game out of it. Today, we've made a lot of people's morbid stick-dreams finally come true with Stick Man Rescue. Of course, people will want to save the stick men like they're supposed to, not kill them, right? Right?"
PlayStation Plus subscribers will be able to download Stick Man on January 4th in Europe and January 10th in North America. Stick will be available to the general public on January 18th and 24th in Europe and North America, respectively.
Image 1 of 9