The Simpsons Game Demo On Xbox Live Marketplace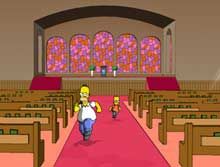 You've been hearing about the upcoming Simpsons Game, and while you've laughed at the trailers lampooning classic gaming clichés you still wonder how it plays. EA announced today that the demo is ready for your downloading pleasure on the Xbox LIVE Marketplace. You'll get a full episode to test out, and yes it's the same one that has been demoed since E3 earlier in the year.
The Simpsons Game takes a unique Springfield approach to a game. Instead of falling into the trap of creating a rehashed pile of crap, the developers had the writers from the television show pen the script(s) for each of the episodes. You'll battle it out in Medal of Homer, and take to the streets in Grand Theft Scratchy. Of course, when your favorite franchise is ridiculed by those wittier than yourself you won't cry. No, you understand that this is all parody. Besides, the Simpson family means you no ill will. But they do demand that you put pretense aside and enjoy the damn game.
So get on Live and download the demo. And because I think it's worth watching repeatedly, below is the video from the "Neverquest" episode in the game. The Simpsons Game is set to release on October 30th for PS2, PS3, Xbox 360 and Wii.
Staff Writer at CinemaBlend.
Your Daily Blend of Entertainment News
Thank you for signing up to CinemaBlend. You will receive a verification email shortly.
There was a problem. Please refresh the page and try again.