Skyrim Patch 1.3 Hits Xbox 360, PS3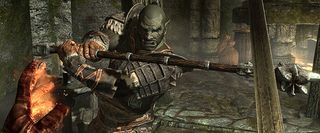 Elder Scrolls V: Skyrim's latest patch has arrived on consoles. Xbox 360 owners across the world and European PS3 owners can download Patch 1.3 through Xbox Live and fix some of the nagging issues that have persisted since launch or were introduced in Patch 1.2.
Bethesda released Patch 1.3 for the PC last week. They had to submit the update to Sony and Microsoft for release on their respective consoles, though. Looks like Microsoft was quicker on the draw.
The 360 patch is almost identical to its PC counterpart:
General stability improvements
Fixed Radiant Story incorrectly filling certain roles
Fixed magic resistances not calculating properly
Fixed issue with placing books on bookshelves inside player purchased homes
Fixed dragon animation issues with saving and loading
Fixed Y-look input to scale correctly with framerate
No word on when the patch will hit other PSN territories. The fact that the update already been released in one part of the world suggests that you won't have to wait much longer, though. Hopefully they get the patch out the doors by the holidays.
Staff Writer at CinemaBlend.
Your Daily Blend of Entertainment News
Thank you for signing up to CinemaBlend. You will receive a verification email shortly.
There was a problem. Please refresh the page and try again.