Super Smash Bros. Brawl Trailer For Wii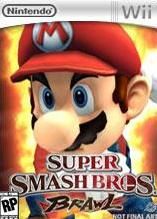 With more platforming action, more characters, and more interactive stage hazards than those awful sewers Mario and Luigi have been running around in for nearly two decades. With an all-star cast of characters, including a stripped-down Samus, Snake Solid, and a visually improved Kid Icarus, this is a game (and trailer) no Nintendo fan could miss.
The actual game, Smash Bros. Brawl, is not Wii-mote compliant. Despite that being the purpose of the Wii, the series creator Masahiro Sakurai, thought that the game needed a simplistic gameplay mechanic. Like the Gamecube version, Super Smash Bros. Melee, the control scheme in Brawl will use a traditional controller setup. According to an article on IGN, Sakurai stated that... "My plan is to include Wi-Fi connection compatibility and online functionality. One of the primary reasons Super Smash Bros. Brawl was created was that Nintendo, when taking Wii online, wanted to have Smash Bros. to do that,"
The trailer below is actually from the Japanese rendition of Smash Bros. Brawl. However, there's no dialogue that needs localization and the entire trailer focuses on the gameplay and character elements. The Japanese are expected to receive Smash Bros. Brawl on December 31st of this year, while North American gamers will have to wait until the first quarter of 2007 to see the game on store shelves.
Staff Writer at CinemaBlend.
Your Daily Blend of Entertainment News
Thank you for signing up to CinemaBlend. You will receive a verification email shortly.
There was a problem. Please refresh the page and try again.